Sorry, no plastic bags in Jianzuo village. This rule equally applies to aeveryone including villagers, pilgrims and visitors, who are coming here. Visitors need to bring their own chopsticks and ensure no rubbish left behind.
零废弃(Zero waste)是指在生产生活中产生的各种废弃物,可以作为其他原化。
对不起,这里没有塑料,外来客人请自带碗筷,请打包带走您的垃圾!
Under Sanjiangyuan Ecological Environment Protection Association's guidance and training, Jianzuo villagers and a Tibetan Lhama have founded the Dejia Ecological Learning Centre. The center aims to build Qinghai Tibetan Plateau's number one zero waste community.
在尖作村,不管是在这里牧人、修行人、还是到访的客人,都不能使用或者丢弃塑料制品、塑料包装,并需要自带碗筷,临走时还被邀请"打包"带走自己产生的垃圾。
尖作村在青海省三江源生态环境保护协会的支持下,以"德迦环保学堂"为中心,成功创造了青藏高原或许乃至全中国第一个真正意义上的"零废弃社区"。
Jianzuo village is located in Sangjiangyuan source of the Lancang River. An average elevation of 4100 meters, belong to Qinghai Province, Yushu Tibetan Autonomous Prefecture, Nangqian County. The village mainly practices animal husbandry. Sanjiangyuan is the birthplace of the Yangtze River, Yellow River and the Lancang River. The region serves as the headwaters for the population of 20 billion people in China and Asia. It is also one of the most sensitive areas for the global climate change response. The total area is 366,000 Square kilometers, its ecosystem services, natural landscape; biodiversity has a national and global interest of the being protected.
尖作村位于三江源澜沧江的源区,平均海拔4100米,属青海省玉树藏族自治州囊谦县,以畜牧业为主。三江源是长江、黄河、澜沧江的发源地,是为我国和亚洲各国的20亿人口提供水源,有"中华水塔"之称,也是对全球气候变化反应最敏感的区域之一,总面积36.6万平方公里,其生态系统服务功能、自然景观、生物多样性具有全国乃至全球意义上的保护价值。
Jianzuo village used to face garbage crisis
尖作村曾经堆积如山的垃圾
Before 2016, Jianzuo village had faced some environmental challenges and crisis because of consuming cheap products and running unregulated industries, which caused many wastes and damage the local environment. Local villagers also did not have much awareness in protecting the environment, consuming organic food and using Tibetan sustainable traditional objects. A villager recalled his memory about the wastes caused from consuming too much junk food. He said "during the Tibetan New Year, if one family bought a box of energy drinks, the other family would compete to buy two boxes to show their wealth. Many plastic bottles and plastic packaging were discarded everywhere, which polluted the land and headwater sources. Another villager stated that his four or five yaks would die from eating plastics annually.
2016年以前,尖作村同藏区其他地方一样,牧人们陷入了追逐消费廉价低劣工业产品的危机, 产生大量废弃物并危害当地环境。当地村民也不重视保护环境,食用畜牧业有机食品及使用藏族传统的生产生活用具。村民回忆起曾经吃太多垃圾食品而引起的浪费。"以前村里有两家小卖部,过年这一家买了一箱饮料,另一家就要买两箱,大家互相之间会攀比。"村民尖才回忆道。村民们争相购买垃圾食品,并将瓶子和塑料包装随意的丢弃在草原上,污染了土地和水源。另一位村民说道,"我家一年大概有四、五头牛会因为误食塑料垃圾而死,把牛胃剖开里面全是塑料袋。"
Today Jianzuo village has deeply changed and is closer to meet your idea of paradise: no garbage, no signal, away from the noise pollution, groups of wild animals, uninhibited grassland, hidden between these big Three Rivers.
今天看到的尖作村,会符合您对世外桃源的一切想象:没有垃圾,没有信号,远离喧嚣,成群的野生动物,不羁的草原,隐蔽在三江源深处的恋恋群山之外……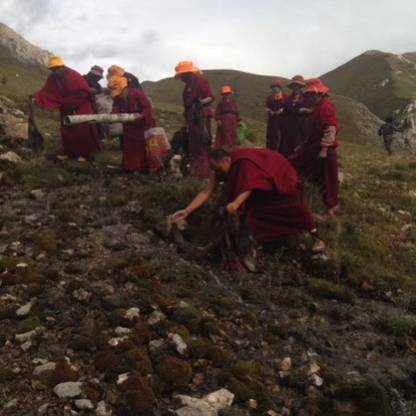 The impact from setting up Dejia Ecological Learning Centre
德迦环保学堂:面对冲击,力挽狂澜
A Tibetan Kunbu (doctor) named Jiangyan Xiran from Jianzuo village. He practices both Buddhism and Tibetan medicine. He teaches Dharma as well as offers free medicine to the local population.
In 2012, this Kunbu has been introduced tothe Sanjiangyuan Eco-Enviromental Protection Association (SGR)'s global Healthproject. In 2013, Kunbu became an environmental protection member of SGR and Alxa SEE.
Kunbu has realised that the increase of commercial waste has threatened Tibetan Plateau's fragile land and wildlife in the Sangjiangyuan area. Waste produced from generation to generation, which cannot be degraded in a long run. As a result of this, it polluted the natural environment, impacted nomads' living environment and health. Therefore, he is determined to lead and support nomads to return to the traditional lifestyle they know.
尖作村里有一位堪布(佛学博士)降央西然,是当地很有威望的藏医及禅修大师,多年来为牧人们讲解佛法,免费看病。
2012年起,堪布接触到青海省三江源生态环境保护协会(SGR)的绿色健康项目,并于2013年成为SGR和阿拉善SEE生态协会的环保人。


堪布意识到,商业垃圾已经威胁到三江源地区的自然环境和野生动物,随手丢弃的垃圾成为几代人生命期间都无法降解的"毒瘤",污染了土壤大地,严重影响牧人们的生活环境与健康。因此,他决定引导牧人们回归本有的健康生活方式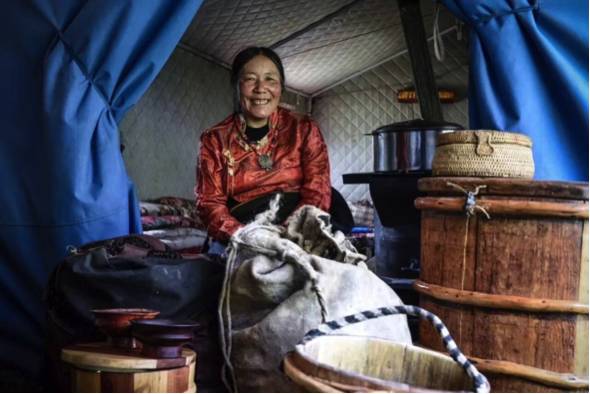 Kunbu-Jiangyang Xiran's water protection work in Jianzuo village
"堪布降央西然在尖作村水源保护地"
Kunbu brings Dejia Monestery, Dejia Nunnery and 54 nomadic families together to found the Dejia Ecological Learning Centre on the 25th April, 2016. SGR also provided guidance to support the centre by providing relevant trainings and setting up three core values for the centre; build a zero waste community, benefiting others, and consuming organic food. Through promotion of Dejia Ecological Learning Centre, villagers are encouraged to realize these values.
Since the Dejia Ecological Learning Center has been founded, Kunbu has formed and led a team in person to clean up rubbish on the grassland, picking up every piece of waste into garbage bag by his ownhands. In 2016, the Dejia Ecological Learning Center has cleaned up 25 trucks of rubbish in local areas. Kunbu finds out that cleaning and burning rubbish is not anwering the root cause. The fundamental solution is to band plastics and junk food in the community.
2016年4月25日,降央西燃堪布组织德迦寺、德迦尼姑寺及村里54户人家,在SGR的指导下,成立了"德迦环保学堂",并为所在社区提供相关训练、设立了三个重要目标:建立"零废弃"社区、怀有利他之心、食用有机绿色食品。通过德迦环保学堂的带动,鼓励村民去实现这些目标。
德迦环保学堂成立之初,堪布亲自带队,组织大家清理草原上的垃圾,并以身作则,徒手把垃圾一件件放入垃圾袋中。2016年,德迦环保学堂带领社区牧民共清理了25车垃圾。堪布意识到,捡垃圾、烧垃圾并不能从根本上解决问题,各家各户的消费是垃圾产生的源头,只有大家不使用塑料制品、不食用垃圾食品,才能从源头上解决问题。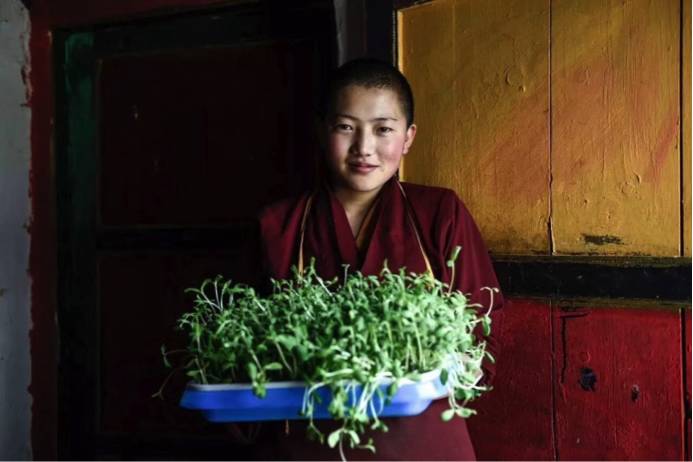 The local nunnery starts to planthydroponic organic vegetables.
寺院的阿尼进行无土栽培蔬菜的试验并种植了有机蔬菜
Building a Zero Waste Community faces many challenges
"零废弃"社区建设,困难重重"
Zero waste, zero plastics sound easy but hard to achieve. Villager Tashi said "to achieve a zero waste community means rebuilding the community. For example, my family owns 45 kinds of objects made from plastic. It would take time and money to replace with Tibetan traditional objects made from wood and fabric. "
Although, gaining knowledge from the Dejia Ecological Learning Center and Kunbu' s persistent in environment protection as well as Dharma teaching and SGR's training, villagers are committed to build a zero waste community. During the cleaning of plastic, Kunbu collected in total of 740 plastic objects from the families and two local monasteries. After that, local people are started to reuse Tibetan traditional objects they used to have.
零废弃、零塑料的生活说起来容易做起来难,村民扎西么杰说:"要做到零塑料,意味着我要重建我的家。我们家有45个塑料制品,要花许多钱把它们全部换成木头的、布的,换成我们祖祖辈辈都在使用的传统生活用具。"
但通过环保学堂的宣传教育,通过降央西燃堪布等僧人通过佛法讲解渗透环保理念,以及SGR的帮助与培训,牧人们自愿参与到零废弃社区的建设中。堪布在两座寺院以及各个牧户家里清理塑料用具,总共"没收"了740件塑料制品,随后村民们逐步恢复了使用传统生活用具。
Kunbu's encouragement in reviving Tibetan traditional objects
"降央西然堪布鼓励当地百姓收集使用祖辈传下的生活用具"
"Nowadays we use fabric bags to purchase rice; local people no longer use plastic bags. All the local shops have banned the use of plastic bags", said a villager.
A nomad said he is feeling proud to see his village becomes the Number One Zero Waste Community in Qinghai Plateau. This is how the zero waste community started. Since then, the local environment conditions are getting better and have made rigorous progress in protecting the land. In addition, local people have found back an original healthy life as well as a revived cultural heritage.
"现在我们去买米买面,都会自己带着布袋子,不使用商店提供的塑料袋。村里人开的一家小卖部,也在环保学堂的倡导下关门了。作为青海省唯一的一个零废弃社区,我们很自豪。"当地牧人说。
村民们表示非常高兴,尖作村建设起高原上第一个真正意义上的零废弃社区。零废弃社区就是这样建立起来的。建设零废弃社区以来,草原、河流更干净了,人们的心情也更加舒畅了。藏区一直难以解决的垃圾问题得到了突破性进展,当地牧人寻回了原有的健康生活与文化的传承。