Hello! Today we are meeting with Matt Holas, the co-founder of the Shanghai Soup events. He tells us a bit more about why and how they are helping new projects to take-off the ground!
各位安。今天我们的访问对象是上海SOUP的共同创办人Matt Holas。他会跟我们分享他们协助创新专案项目突围而出的因由与方式!
What is the story of Shanghai Soup? How did it start?
Shanghai Soup is based on the hugely successful Detroit Soup model; a micro funding initiative started in the USA. David and I felt it was a great idea that we could adapt. We knew so many people with interesting ideas in Shanghai but there were so few opportunities for them to get funding. We were also passionate about food waste and saw an opportunity to combine this with the soup model by providing sustainably sourced food.
首先可以告诉我们上海SOUP的故事吗?它是怎样开始的?
上海SOUP的运作模式取材自美国的微型众筹项目──非常成功的底特律SOUP;我和David认为这是个值得学习的好点子。在上海,我们认识许多拥有有趣点子的人,但他们能获得资助的途径和机会却很少。另外,我们也致力于减少浪费食物。这两个元素拼凑出现在的上海SOUP──以提供可持续发展的食物换取对不同专案项目的资助。
Can you tell us a bit more about the event itself, what is happening during a Shanghai Soup?
Shanghai Soup events follow are very easy formula, we invite guests to attend the event. They pay for a ticket which entitles them to a vote and a bowl of soup. Then they listen to four different projects from across Shanghai, each project has four minutes to present and field four questions from the audience. After the presentations everyone queues up to choose from one of four soups, as they collect their soup they can vote for the project they like to most. The winning projects receive all of the funds collected at the door.
可以分享一下活动的内容吗?一个上海SOUP的聚会有什么流程?
上海SOUP的活动流程有一条十分简单的方程式:我们邀请嘉宾出席,嘉宾认购门票以获得投票权和一碗汤,他们会观看四组不同专案项目各四分钟的演讲并回答现场观众的四条问题,然后每人投选他们最喜爱的项目。获得最高票数的专案将得到全部门票收入。
What's your personal background and what is driving you?
My background is in project management so I am keen on seeing what projects and initiatives are coming out of Shanghai and supporting them where I can. David has a background in Biogeochemistry with a focus on waste management, so he is eager to raise awareness about food wastage and take action to change it.
可以谈一下你自身的背景吗?是什么驱使你展开这段旅程?
我本身的工作范畴是专案管理,所以特别留意在上海冒起的创新专案项目,并支持我喜欢的项目。 David则是出身生物地球化学,专精于废物管理,因此希望提高大众对食物资源浪费的注意,并决心以行动实践理念,改变人们的习惯。
Why it is so important for you to help people achieve their projects and goals?
There are so many ideas in Shanghai, it is such an international city and a place that has ease of access for many people. Most of these ideas start small, if we can contribute in some way to growing these ideas that is great. We are also aware that many of the things people want to do and are active in are not necessarily for profit, we really want to encourage people to try whatever they believe in and hope we can give them some support to do that.
协助别人的专案项目成就目标对你而言有何意义?
上海是一个充满点子的地方,全因其国际化的地位,人们很容易与很多不同的人群接触。大部分的好点子都是从小处出发,能以各种方式支持它们成长是一桩美事。我们也注意到很多人想做的事未必是为了利润。因此我们特别希望鼓励人们勇敢尝试实践他们的估念,而且希望尽己之力去协助他们。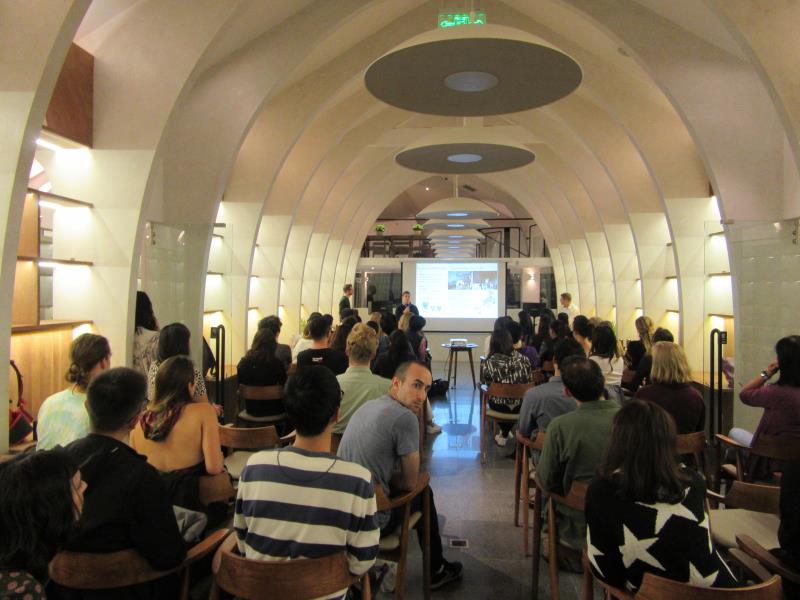 Talking a bit more about the events, how do you make the soup you serve during the dinner? How do you collect the ingredients?
All of our ingredients are surplus vegetables that are provided by our sponsors Kate and Kimi and Fields. They deliver unused vegetables to the venue first thing in the morning on the day of a Soup event, we then spend the rest of the day sorting, cleaning, cutting and cooking the soup, ready for the evening. All of our soups are vegetarian and vegan.
回到活动的内容,你们在活动中提供的汤是如何料理的?材料从何而来?
所有的材料均源自我们的赞助者「可食可觅」和「甫田网」提供的剩余蔬菜。活动当日早上他们会将没用过蔬果送到会场,然后我们会花上一整天去拣选、清洗、切割、料理,为活动作准备。我们活动上提供的汤全部都是纯素的。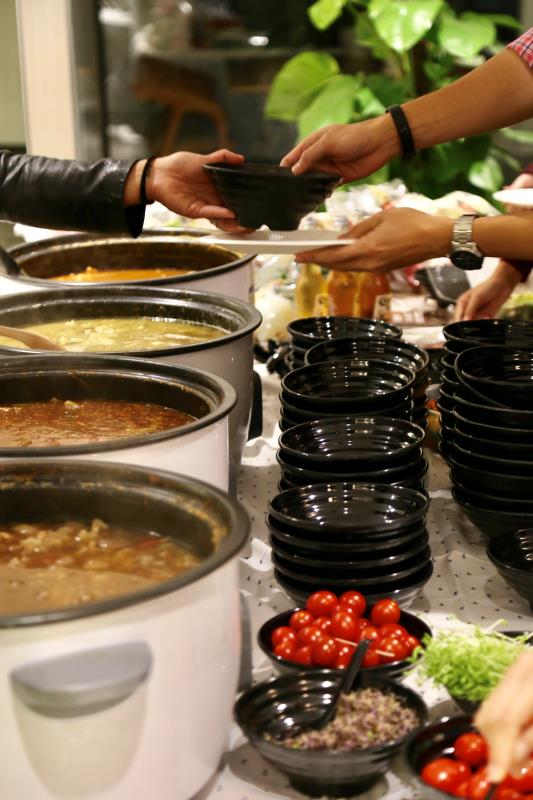 What has been your favorite project pitching at a Shanghai Soup event since it started?
I don't know if I have a favorite they are all so different. We've had dance projects, sports projects, books, indoor gardening, women's support initiatives, a school, a plastic recycling group. I have never seen a project at or soup events that I didn't think could win, it's always been hard for our guests to choose who to vote for.
自上海SOUP开始以来,你在活动中成就过的不少专案,哪一个是你最喜欢的项目?
很难说有没有我最喜欢的项目;它们都不尽相同。我们有过舞蹈项目、有过运动项目、书本、室内园艺、女性支援服务、学校、塑胶循环再造……我从未在SOUP活动上遇过我认为压根儿没可能赢的项目,它们总是势均力敌。
What do you think is the biggest challenge for people that are starting their project besides financial help, including yourself with Shanghai Soup?
I think often the biggest hurdle for people, apart from finding financial resources, is finding people who want to share in their project, be they volunteers, customers, partners, teachers etc. Getting the project form an idea up to a real activity is hard. So we like that projects get to present to up to a hundred people too. We know that some of the projects have received additional support from people they have met at events.
你认为专案项目开始时面对最大的挑战是什么?包括你自己的专案上海SOUP,除了财政,还有什么困难之处?
我认为除了寻求投资以外最大的困难是寻求志同道合的伙伴,他们可能是义工、客户、教师等等。从点子变成实际专案的过程很艰难,所以我们乐见某些项目演讲有多达一百人在现场观看──我们知道好些项目从活动上认识的人处得到额外的支援。
Related article:
Edible Packaging; An End to Plastic Packaging's Cruel Regime 可食用包装:塑料包装时代的终结
Stephane - Enwise: Turning Waste Into Energy And Fertilizer 把废物循环利用作为能源和肥料
To join the movement and receive our best stories directly in your inbox