Hello! Today we are meeting with Ingmar Rentzhog, the Founder of We Don't Have Time, a social media platform to tackle the climate crisis through bottom-up actions. He is telling us more about his vision to create a movement of ordinary citizens coming together to influence change on a global scale.
What is the story of We Don't Have Time? How did it start?

When Donald Trump was elected the 45th President of the US, I realized that our leaders are not going to solve the climate crisis by themselves. It is up to each and every one of us to do it, all together. I started by setting up a small team of professionals that I knew well, and like myself were dedicated to solving the climate crisis. Earlier this year we successfully closed a crowdfunding campaign through FundedByMe. We raised over US$1.2 million and attracted over 430 investors from more than 15 countries all over the world.
Right now, we are focused on building our platform. Thus far, we have launched three action tools as "teasers", one for sending climate love and climate bombs to world leaders' tweets, one for making a selfie-video with personal climate resolutions, and a tool for carbon compensating your emails.

Our long-term goal is to recruit 100 million users on our platform and provide them the right set of tools to create a unified voice on climate issues. This will be financed by a revenue flow from advertising by corporations that want to engage conscious customers. Another key part of We Don't Have Time is that we want to create change within a business, and not against it. Until now, almost all attempts to approach the climate crisis have been top-down, which is ineffective and leads to slow change. We want to upend this structure and build a platform for bottom-up impact.


Our name - We Don't Have Time - is our motto. Climate change is an ongoing catastrophe, and we need to act now. Users on our social media platform focused on climate change can propel real change through the power of many. Real change can only come from a movement of ordinary citizens from all over the world that truly demands change.
We Don't Have Time 的故事是什么?它是怎么开始的?
Donald Trump被选上第45届美国总统的时候,我意识到我们的领导人们是不会解决气候危机的。解决气候危机需要每个人共同努力。于是,我组织了一个专家小组。我了解他们,他们也都是和我一样专注于解决气候危机的专家。今年早些时候,我们通过FundedByMe成功募资了120多万美元,同时吸引了全球超过15个国家的430名投资人。
现在,我们需要把注意力放在平台建立上。到目前为止,我们开设了三个作战手段来预热。一是向世界领导人关于气候的推文发送爱心支持,或者发送炸弹抗议;二是制作视频来表达自己应对气候问题的决心;第三个是为邮件添加"碳"签名。
我们的长期目标是征集到一亿位平台用户,为他们提供一套适用的工具,并且联合他们为气候问题发声。企业想要吸引有意识的顾客,会利用广告收入来支持我们的行动。We Don't Have Time 的另一个关键部分在于我们希望在商业中创造变化,而不是和它对着干。在如今,几乎所有对气候危机的尝试都是自上而下的,这样效率很低,导致改变很慢。我们想要反其道而行,建立一个影响力是自下而上发展的平台。
我们的名字 —— We Don't Have Time是我们的座右铭。气候变化是一个正在恶化着的灾难,我们必须现在行动起来。我们社交媒体平台上关注气候变化的用户们能够推动真正的改变发生。真正的改变只有通过世界各地迫切需要改变的居民们才能实现。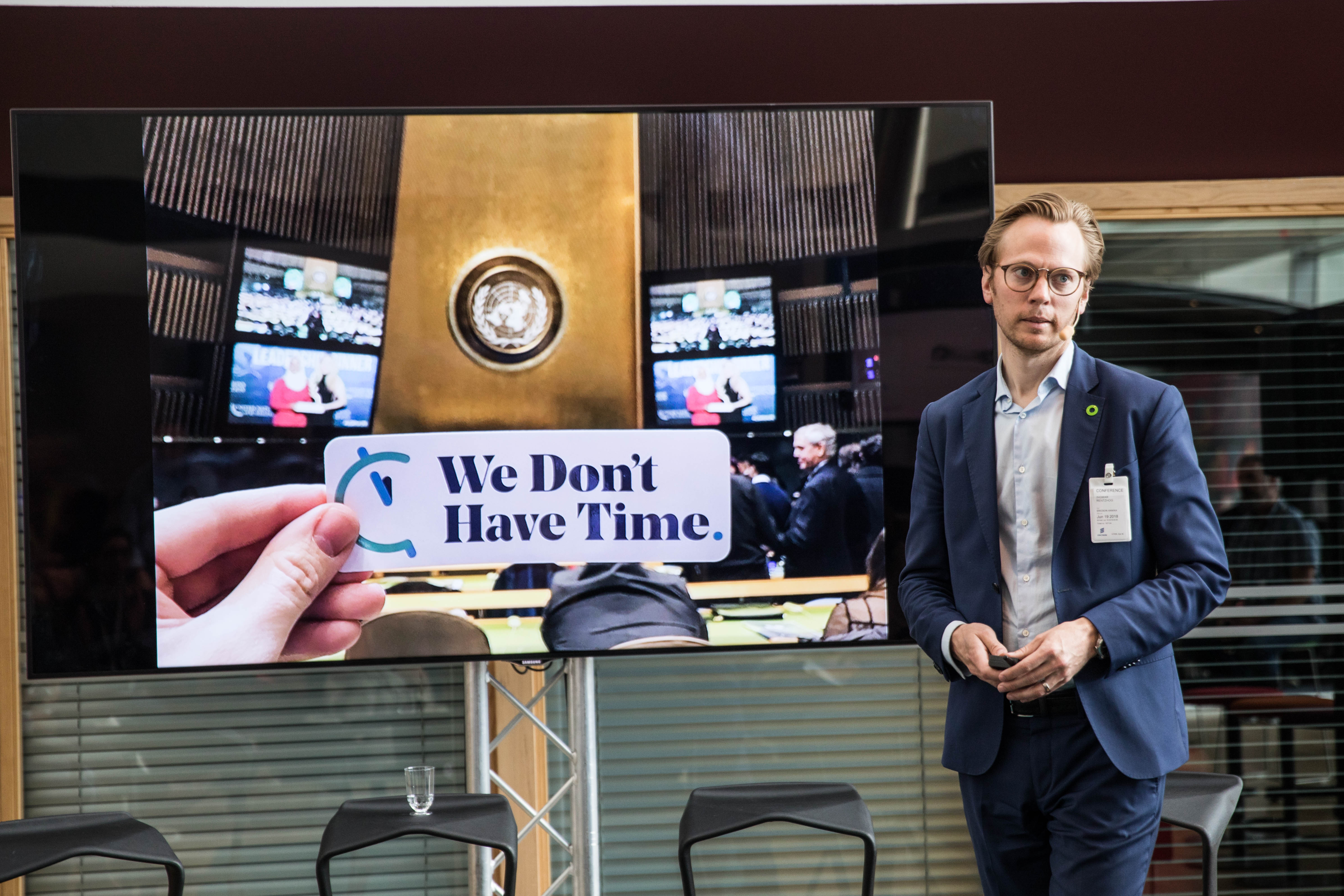 What's your personal background and what is driving you?

I started my career in finance, but then rather quickly noticed the urgent need for communications specifically in the finance industry. I then founded the financial communications agency Laika Consulting and acted as CEO there for many years. Earlier this year Laika Consulting was acquired by FundedByMe, and now I am dedicating 100% of my time on We Don't Have Time.

We are already seeing the effects of climate change: extreme weather, droughts, wildfires and floods. The thing is - it will get worse. The climate crisis is an existential threat to all of humanity, and therefore it is in everyone's self-interest to try and solve it. I also believe that we all, including businesses and investors, have a moral obligation to take a long-term perspective, and focus less on maximizing short-term profits so that we can be part of a change that must happen.
请问你的个人背景和动力是什么?
起初,我在金融行业工作。工作不久就体会到这个行业急迫的需要更多的交流和沟通。于是,我开了一家叫Laika的金融信息咨询中介,并作了一些年的CEO。今年早些时候,FundByMe收购了Laika。于是,我现在就将百分之百的精力放在We Don't Have Time上。
极端天气、旱灾、天然火灾和洪水,气候变化的影响已经不容忽视。关键它只会向更坏的方向发展。气候危机是对人类生存的威胁,所以作为人就会想要试着解决它。我认为不论是公司,还是投资者都该将目光从短期最大化利益转移开,在道德义务上,从更长远的角度看事情。只有这样我们才能为改变出一份力。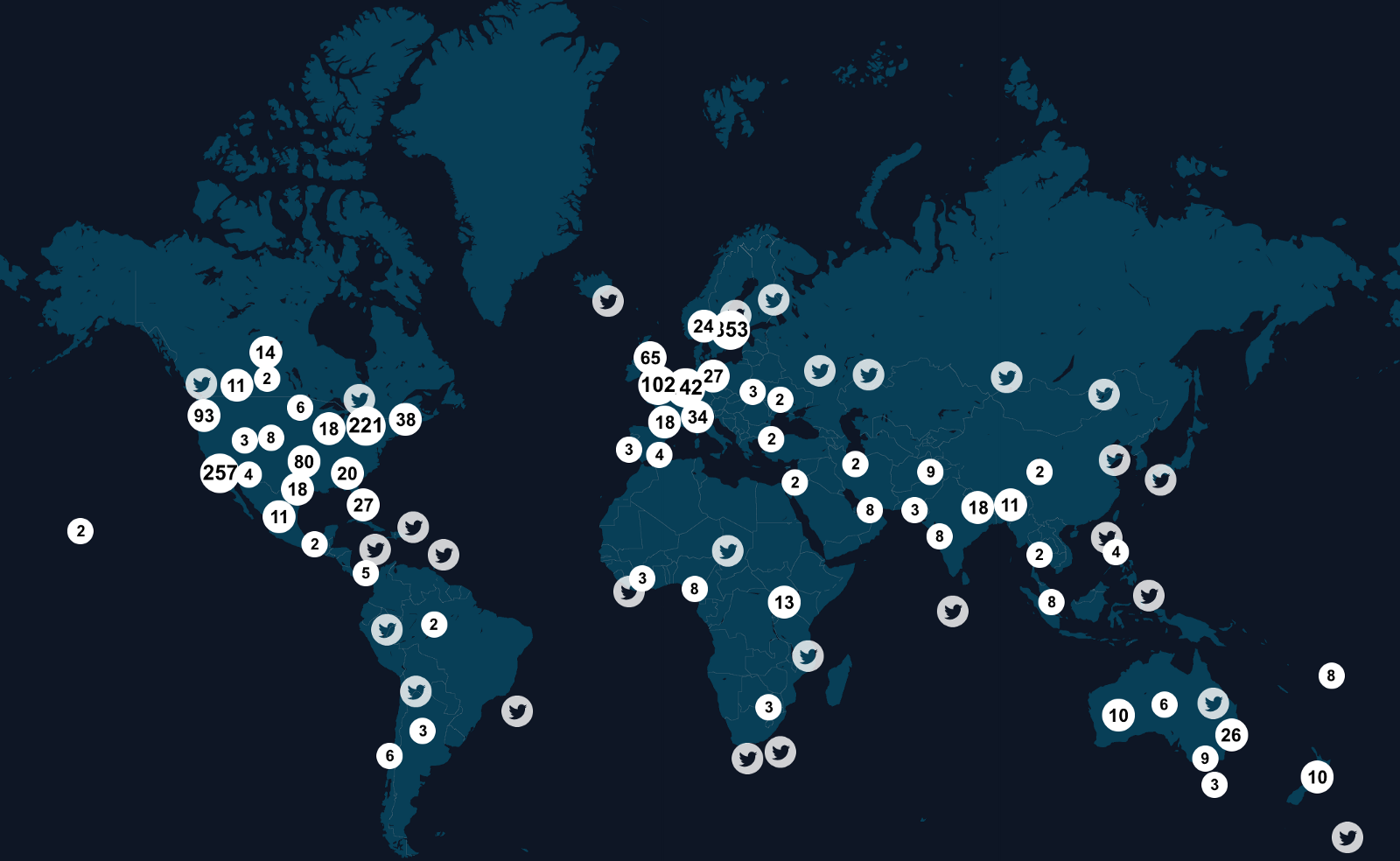 What do you think about the environmental problems in China? Which impact do you wish to have in China?

China is extremely dynamic, and they have reached an environmental tipping point after heavy industrialization. I believe China is doing great work regarding solar power, and now recently planning to broaden their energy sources by investing heavily in other fossil free energy. I have read that China is starting to collect an environment tax to help fund its environmental policies, and is trying to incentivize green investments, which is definitely a step in the right direction. The challenges are many, as they are in every nation. I hope and believe that China will continue to invest heavily in their combat against pollution. It is after all in everyone's self-interest. I just hope that change is happening fast enough.

Another positive thing occurring in China is that China is the most active country in the world addressing climate change in media per capita. Sweden is number two, followed by the US. This result is quite interesting, considering the Chinese government's legal right to control internet content.

We did not plan from the beginning to aim specifically on the Chinese market, but I do not doubt that we will look at it in the future. The Chinese people are generally early-adopters when it comes to technology. It is an interesting market that we have yet to explore.


你对中国的环境问题怎么看?你希望在中国发挥什么影响力?
中国极端的多元化,而且在重度工业化后到达了环境的临界点。当然,中国已经采取了积极的措施,比如太阳能的应用。近期还在计划高度扩大对非矿石能源利用的投资。我还读到过中国已经开始征收环境税来资助施行自己的环保政策,以及鼓励绿色投资。这绝对是在向正确的方向迈进。不同国家都面对着不一样的挑战。我希望,也相信中国会继续在环境污染的斗争中投入更多。毕竟,这关系到每个人的利益,我只希望改变能来得及时。
在中国还有另一件好事在发生,那就是在网络媒体上,人均对环境问题的提及率已经是世界最高,瑞典第二,其后是美国。这个结果也很有意思,考虑到中国政府对网络内容的监控。
我们在起初并没有特别针对中国的市场制作计划,但是我们将来肯定会着手于此。对于科技,中国人们普遍接受的很快。对于这样一个有趣的市场,还需要更多的探索。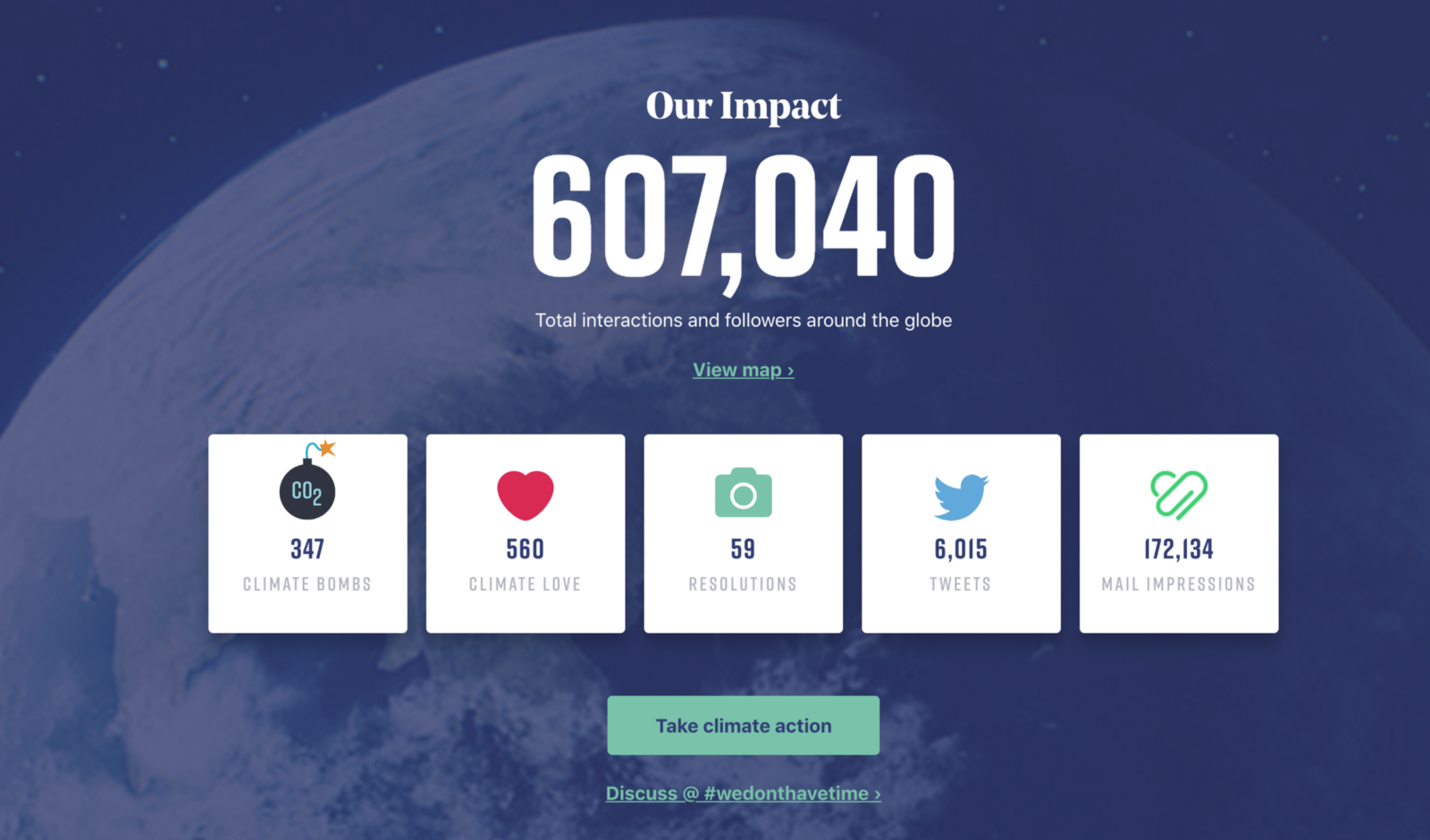 How many people are involved in the project? What is the biggest challenge you have faced in your journey with We Don't Have Time?


Apart from me, we have a board of directors and a main team involved in the project. We also have an advisory board, but they are not involved directly in the project. The main team consists of Anette Nordvall (Chairwoman), David Olsson (COO), Mario Nakic (CTO), David Hjortsberg (CD), Mårten Thorslund (CMO), Henry Chen (Executive Assistant).
The biggest challenge we have faced is actually to cope with the global interest that we have already attracted. Our social media reach is over 5 million people per week and every day we are contacted by people and organizations around the world that want to help us. It's very encouraging but unfortunately, we don't have the resources to answer every email at this moment.

这个项目一共有多少人参与?他们都在做什么?在We Don't Have Time的这段经历中,你遇到的最大的挑战是什么?
除了我以外,这个项目还有一个董事会和一个主体团队。还包括一个顾问委员会,他们并不直接参与项目。主体团队包括Anette Nordvall(主席)、 David Olsson(首席运营官)、Mario Nakic(首席技术官)、David Hjortsberg(总监)、 Mårten Thorslund(首席营销官)、Henry Chen (执行助理)。
我们在全球范围吸引了相当的注意力,如何应对它们其实我们遇到的最大挑战。我们的社交媒体每周都会有超过五百万的访问量,而且每天都有世界各地想要提供帮助的个人和组织联系我们。这着实很激励人心,但同时不幸的是,我们现在做不到回复每一封邮件。
Why did you choose social media as your secret weapon to encourage everyone to take action?


Social media has a unique function that can unite a large number of people across the whole world without requiring physical presence. No other tool has that feature. The climate crisis is a global problem that has to be solved globally. Intuitively, I realized that social media could be an essential tool to combat the climate crisis.


社交媒体为什么会作为你促使大家行动起的有力工具的?
社交媒体的一个独特功能就是,它可以实现在没有实体参与的情况下,联合大批世界各地的人。没有其它手段可以做到这一点。而且,气候危机正是一个全球化的问题。自然而然我就意识到社交媒体就是和它作战的重要工具。
How can people take action to help to solve the problem of climate change?


Everyone can contribute by making conscious, informed choices, and sticking to them. By setting strong examples, we can influence others to do the same. I recommend people to not try everything at once. Instead, try to become really good at something, such as eating more green food, and be vocal about it. Be a positive role model by showing your peers that you can come a long way by choosing a green alternative, be it a vegetarian diet, substitute flights with train travel, investing in solar panels, or something else. Show that living green does not have to be a sacrifice, it is a better lifestyle!


人们可以做些什么来解决气候变化的问题呢?
只要保持做有意识、有根据的选择,每人都可以做出贡献。树立一个榜样,人们会跟着榜样做。我建议大家不要一次做太多尝试。反而,试着把一件事做到得心应手,比如:吃更多的绿色食品,并且向大家宣传它。成为同伴们好的示范,给他们看你可以长期选择吃素食、坐火车而不坐飞机、使用太阳能,以及其他绿色替代品。让他们看到,并体会到选择绿色生活不代表放弃更好的生活,它才是更好的生活。
Which person or which project has been or is a great source of inspiration in your job or in your life?

I have been a part of Al Gore's Climate Reality Project as a Climate Reality Leader since 2017. I am member of the organisation European Task Force group and I am grateful for the network that I gained through the project, and I believe it is a great initiative. Al Gore is someone I definitely look up to and someone we would love to feature in our next global "no-fly" climate conference. He has raised the awareness for the climate crisis and transformed entire industry sectors.


有没有哪个人,或者项目是你的工作和生活灵感来源?
2017年的时候,我作为一个气候保护领头人参与了Al Gore的气候保护同盟项目。同时,我也是European Task Force 组织的一员。通过它我获得了一个关系网,对于这点我很感激。我也认为它是一个根棒的倡议。Al Gore绝对是我敬仰的一个人,也希望能请他来我们下一次的"无飞行"全球气候会谈。他提升了人们对气候危机的认知,并且改变了整个工业板块。
Related Articles:
Yan Liu - Power The Future: A Global Education Initiative 点亮未来 全球教育项目
Xenia - UseDem: Upcycling & Conscious Design To Tackle Throwaway Culture
To join the movement and receive our best stories directly in your inbox