Despite the brutal blow to the world economy caused by COVID-19, our impact on the world's climate svystem continues and is expected to generate far more disastrous consequences. To ensure effective action on individual and collective levels to tackle this emergency, quality information is key.
And that starts with EDUCATION!
关于Feiy的全球变暖气候教育启动计划:关于环境气候问题的教育计划:
今年,COVID-19对世界经济造成了残酷的打击,对许多产业带来了不可估计的经济损失。尽管疫情延缓了工业排放的增长,我们人类对全球环境以及气候系统的影响仍在继续。全球变暖和气候变化问题如果不得到及时的措施,将在不久的将来产生严重的灾难性后果。为了确保在个人以及社会团体能够采取有效行动来应对气候变化危机,为公众提供高质量的教育,提高大家的环保意识是不可缺失的一环。在此,Feiy 飞迎将在中国启动"全球变暖气候教育启动项目"。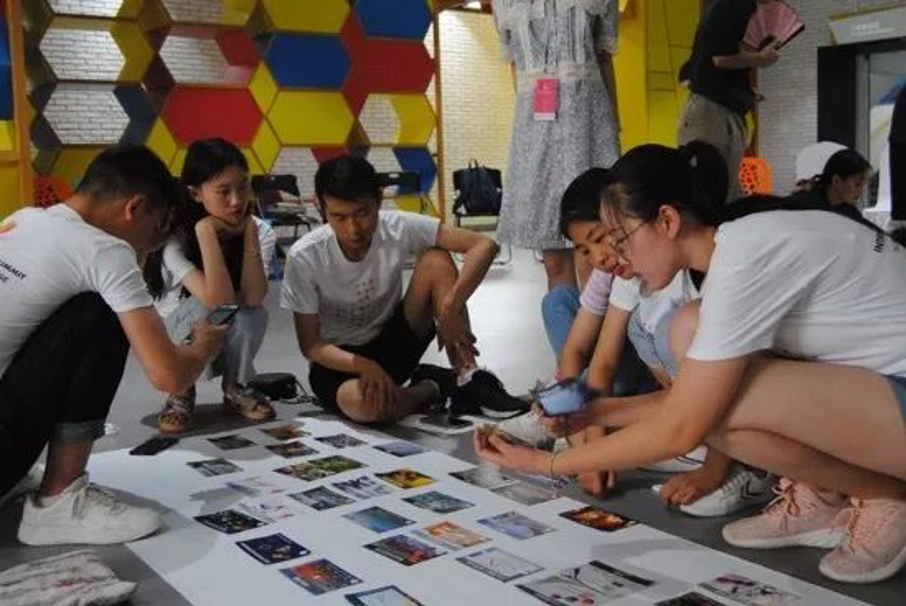 What Is The Climate Education Kick Off?

The "Climate Education Kick-off" program started in France in 2019 with over 10,000 student participants from the most prestigious engineer and business universities, to offer the opportunity to hundreds of students tp be trained on climate issues. Its objective is to raise awareness and understanding, and unifying education for a foothold in climate action.
This year, the program crosses borders and higher education institutions from around the globe are invited to join the scheme.
什么是"全球变暖气候教育启动计划"?
"全球变暖气候教育启动计划"于2019年在法国首次被发起。此计划为学生提供接受环境气候教育的机会,提高公众对气候问题的认知与理解,并在全球气候运动中产生积极的影响。在其项目开展的前几周内,有多达10000名学生参与了其组织的研讨会。今年,该计划跨越国界,邀请来自世界各地的高等教育机构加入该计划。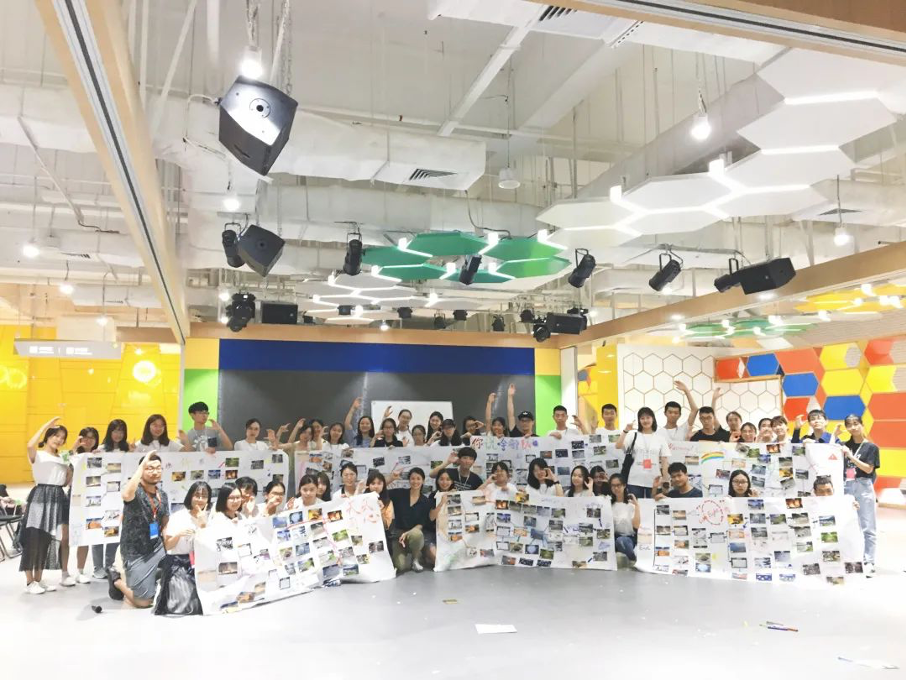 About The Climate Collage
The Climate Collage is an educational tool based on the conclusions of the IPCC report. In only 3 hours, participants can understand our climate system and the consequences of its disruption. The workshop fosters team spirit and collective intelligence and is therefore perfectly suited for students.
Feiy has been partnering with the Climate Collage for the last 2 years to promote the workshop in China, train new facilitators and deliver the workshop to interested companies and universities.
What for?
• Treating a top priority topic and following the principle of "first things first", the event is the best way to welcome (or welcome back) students at the beginning of the academic year 2020.
• Students have a major role to play in the creation of our future and should be equipped with the necessary scientific information.
• This is an opportunity for institutions to support their students on their way to face and tackle major ecological issues that are at the heart of the transformation to come.
什么是"气候拼贴研讨会"?
"气候拼贴研讨会"通过总结IPCC环境气候报告的结论,在3小时的时间里,向参与者介绍气候系统的构成,运转,以及遭到破坏时会产生的严重后果。同时,研讨会的教学方式能够很好地培养团队合作精神,发动群体智慧,为学生提供不一样的学习平台。
过去2年来,Feiy一直与气候拼贴研讨会合作,在中国推广研讨会,培训新的主持人,并将研讨会提供给感兴趣的公司和大学。
为什么?
•在2020学年开始之际,本次活动将是迎接学生的最佳方式。
•学生在创造我们的未来中扮演着重要的角色,并应具备必要的关于环境科学以及气候变化的知识。
•各院校可以通过这次活动支持鼓励学生面对,并尝试解决我们人类共同面对的环境问题,成为扭转未来,改变世界的力量。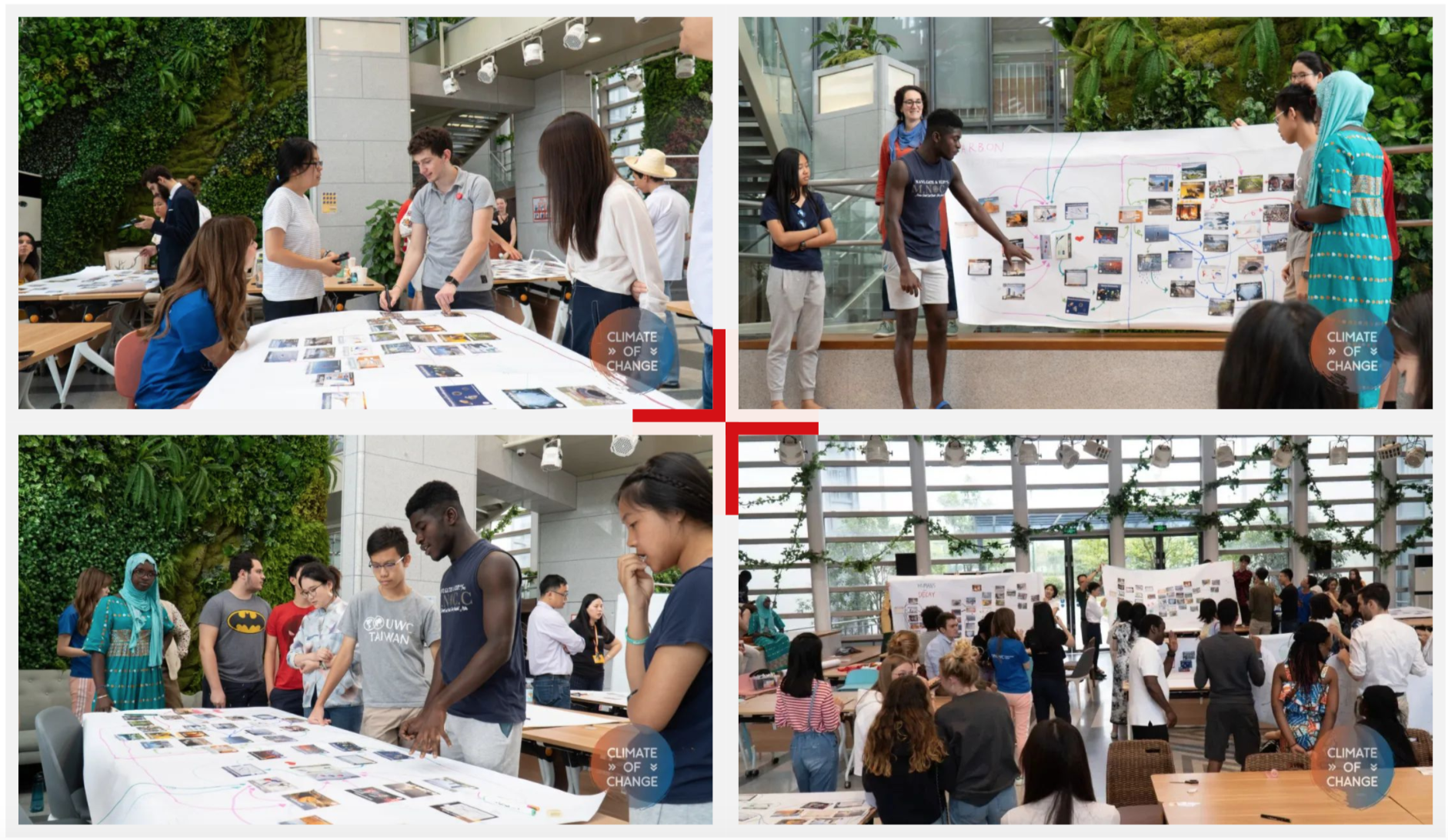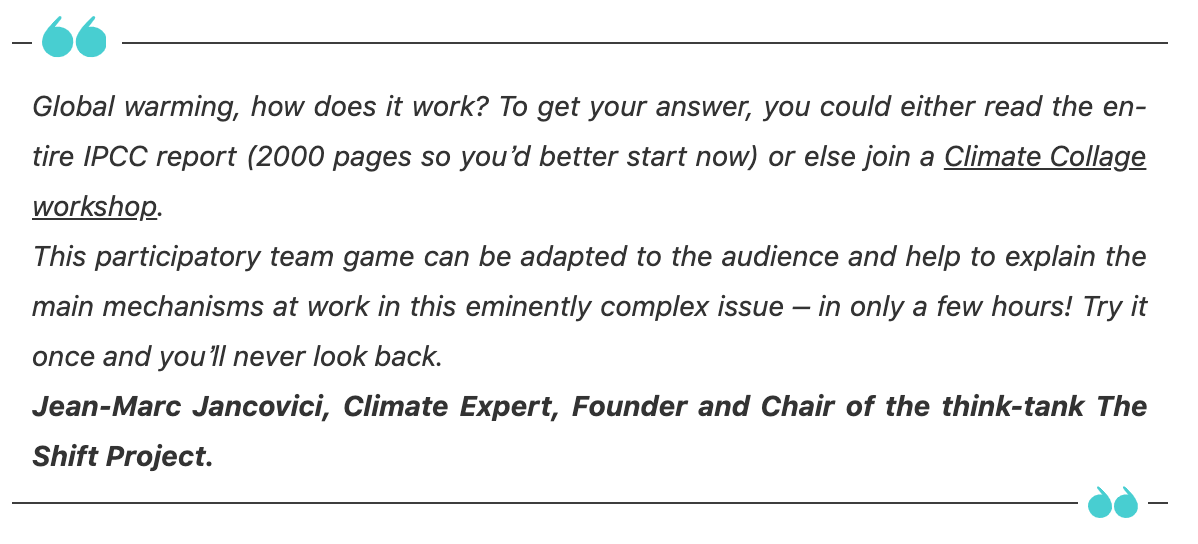 Details
Who can participate and how?
Any university or higher-education institution interested to start the year with a high-quality workshop on the major challenge of our time!
Send us an email at thibault.gil@feiy.co including the number of students and possible dates considered for the workshop.
If you are just interested to get complimentary information, drop us an email!
谁可以参加?
任何一所对我们项目有兴趣的大学或高等教育机构皆可积极参与!
如何参与?
若您想要参与此次活动,请将要参与的学生人数以及理想的研讨会日期通过电子邮件发送到thibault.gil@feiy.co。如果您想获得更多的信息来进一步了解我们的教育计划,您同样可以选择给我们发一封电子邮件。